Weddings & Receptions
Please call us with questions and make arrangements
to see our facilities in person ~515.795.3535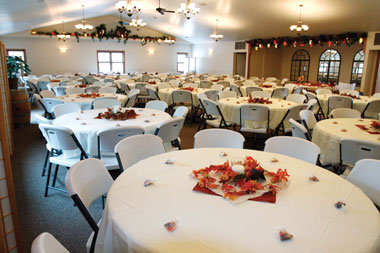 We know that planning for a special event, especially a wedding and/or reception, requires a special place. Snus Hill is located in the rural and scenic countryside of Iowa with large trees and expansive views.
To honor this magical day in your life, we invite you to celebrate at Snus Hill in the special atmosphere we offer with a memorable wedding for you and your guests. Your wedding can be located under large shade trees covering a beautiful green lawn.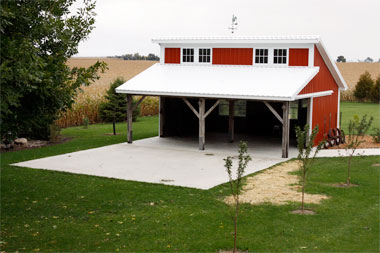 Our outdoor bandstand, affectionately nicknamed the "Chicken Coop", is situated on the lawn area for maximum visibility for guests if you desire to have your ceremony there and has a large concrete area in front of it which is perfect for dancing under the stars. The 58′ by 39′ banquet hall indoors can accommodate up to 180 people. There's a large dance floor and a band alcove with an additional 9'8″ X 20'6." It also contains facilities for caterers. The grounds can accommodate larger groups.
Memories of your once-in-a-lifetime celebration… they will always be special."
Other Events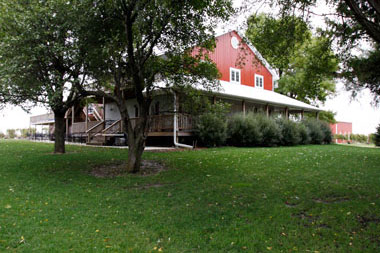 Snus Hill can provide a wonderful place to celebrate anniversaries, birthday parties, Christmas parties or any other event you may wish. Call for an appointment to discuss your event.
Price & Rental Inquiries
May to November, rentals are available on Wednesday, Thursday, and Saturday.
November to May, rentals are available Wednesday-Sunday.
Events
May to November (Saturday)
$2,500 for reception and ceremony
May to November (Wednesday & Thursday)
$75 per/hr with a 3 hour minimum for up to 100 people
November to May
$850 on Saturdays
$75 per/hr with a 3 hour minimum on Wednesday- Friday and Sunday for up to 100 people
Larger events please contact us at 795-3535