Creative Spirits-"Till We Meet Again"
Thursday, March 16th 6:30-8:30pm $35-$40
Brand new to our gallery is the beautiful, serene "TILL WE MEET AGAIN". Join us Thurs. March 16th at 6:30pm for a fun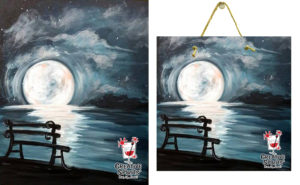 night painting!  Enjoy great wines from Snus' and bring some snacks if you'd like to enjoy while painting. Get some friends to join you for the fun! Our artist will walk you through each step making it fun and easy to create your "masterpiece". Customize with your color choices!  Please arrive 15-20 minutes prior to start time to check in, find a seat and choose your paint colors. HAPPY PAINTING!
For more information, call 515-509-2265, or info@creativespiritsames.com, and to register go to Creative Spirits.
St. Patrick's Day Party with Kelly's Clan
Friday, March 17th, 7-10pm
Join us for green wine and tunes from Kelly's Clan.  This Des Moines based band will add a Celtic musical touch from Eire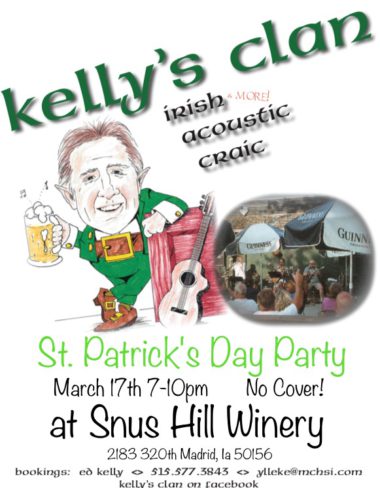 to inspire "Ol, ceol agus craic" (a good pint, great music and wonderful entertainment) this St. Paddy's day at the winery. Kelly's Clan revels in the traditional melodies and acoustic instrumentation of the Celtic music genre. This fun-loving band channels the communal feel of an Irish pub on raucous sing-alongs, and delivers the mellow, richly beautiful ballads and stirring rebel songs of the "auld sod." With guitars, mandolin, percussion and horns, the Clan's infectious tunes infuses roots, blues and world music influences, along with the jigs and reels of Ireland into each performance.
March Wine Workout with BOM Fitness
Saturday, March 18th 1:00-3:00pm $15
A simple and fun workout with a little wine encouragement! Life is all about balance!  Ready t0 flex with Frontenac? Get swol with Sven? Wine workouts are back after a holiday break! Join BOM Fitness and Snus Hill for a light and fun workout guaranteed to challenge your idea of fitness! Whether you're looking for a fun way to mix up your workouts, a date night, or a ladies night, this is an event you don't want to miss!
Questions? Email bomfitness@gmail.com or call (515)795-2600.

Must be 21 to participate.
Open to the public. (BOM membership not required.)
Dates/times subject to change.
**This workout is not designed to be intense nor will heavy consumption be encouraged. Persons performing physical activities should always keep their wits about them. Consuming alcohol can impair ones ability to perform physical activities and should be done with caution. One glass of wine will be provided. Additional wine will be available for purchase post-event.**
Trivia Night with Jimmy Olsen
Sunday, March 19th, 2-5pm

All of those useless facts you have collected are finally going to come in handy.  Radio personality Jimmy Olsen will host Snus' trivia afternoon. Gather a group of friends and call the winery (515)795-3535 to register your team.  Please register your team by Friday, March 17th.  No fee to enter.  There will be prizes!

Spring Locally Grown Showcase
Saturday, April 1st, 5pm-8pm $5 admission
Sunday, April 2nd, 10am-3pm free admission
Locally Grown Showcase is an all local handmade market. Come shop our "pop-up boutique" of handmade products from local designers! This is like no craft show you've ever been to before!
Want to get in early? Buy your $5 ticket to come shop with us Saturday night from 5-8pm! Free snacks and sangria plus wine specials!
-FREE Sunday Admission
-10% off Wine on Sunday
Click here for tickets:
https://www.eventbrite.com/e/locally-grown-showcase-vip-night-tickets-32123498248
MAKERS
Creatively Steffani
Red Gate Customs
Feel Good Natural Products
Tin and Timber Love by Linds
Landy Lou and Evie Too
Gia Rose Designs
Small Frys
Fairycake Designs
Cedar Street Rustics
Verna P's
Stamped Metal Jewelry
Lofty Lou
Elrod Timber
The Madrid Bakery
*ALL vendors accept cash and credit/debit cards*